Frequently Asked Questions
Some parents don't quite know what to make of wrestling as a sport because comparing wrestling to other sports such as soccer, football, baseball or lacrosse is impossible to do. Although wrestling is an outstanding team sport, when the wrestler walks out to compete on the mat they do so by themselves with only the moral support of their parents, coaches, teammates and spectators.
The individual nature of wrestling is what makes those kids who wrestle such outstanding leaders. They become self starters who understand the importance of hard work, preparation and mastering fundamentals. No other sport fosters self-respect, builds confidence, and treats the athlete to the thrill of victory other than the sport of wrestling. It's a great year round sport and a great way to develop athleticism, speed, strength or mental and emotional skills.
This page contains a plethora of questions that have come up one time or another by wrestlers or parents/guardians of wrestlers.  Whether you are a parent/guardian that is new to wrestling and have general questions about wrestling rules, equipment, practice activities, tournaments, or you are a wrestling club veteran, the aim of this page is to help answer those burning questions.
There are 3 main styles of wrestling:
Freestyle
Greco-Roman
Folkstyle
Each style has its own rules and techniques. In the United States, by far the most common style of wrestling is Folkstyle as it is taught in middle school, high school and college.  Saint Peter Youth Wrestling provides instruction in folkstyle wrestling.  If you are interested in the extensive details around folkstyle wrestling,
Phil Henning has a great write up that you can read here
. The objective of wrestling is to "pin" your opponent by placing both of your opponents shoulder blades on the mat at the same time.  However, most matches do not end by a pin and wrestlers obtain points for various moves which are described later in the FAQ's. Participating in wrestling involves 3 key components:
Regular attendance at practice so that the coaches can teach wrestling skills and participants can learn the about the rules, attitudes, and sportsmanship aspects of wrestling.  See the Event Calendar for practice schedules.
Regular participation in individual tournaments will help reinforce the skills taught in practice through wrestling matches that are tailored to the age and experience of the participant.  See the Guillotine Tournament Schedule for available tournaments.
Coaching and reinforcement from parents and guardians is just as important as attending practice and participating in tournaments.  The fact is, two hours of team practice per week is simply not enough practice time for wrestlers to become fully proficient at the myriad of skill sets that the coaches will be teaching.  The goal of the coaching staff is to start with the basic skill sets and build upon them by introducing at least one new core skill per week.  Anytime parents can help by working with their child at home on reinforcing the skills that are taught in practice, the result will be an increase in the confidence of the wrestler and their ability to apply those learned skills and behaviors throughout the season.
Our club accepts boy and girl athletes from Pre-K to 6th grade.  Some parents feel that wrestling is too intense for young kids, and that it is better suited for post-pubescent teenage years. However, denying a child the opportunity to participate in wrestling until high school greatly reduces their chance of success.
There is no easy way to know when a child is mature enough to be participating in a new sport.  Some might be ready at three, while others might not develop an interest for wrestling until their early teens.  The best approach is to introduce kids to the sport at a time and pace that is consistent with their interest level, backing off when necessary, and allowing more participation as their interest grows.
While individual tournaments start as early as October (check The Guillotine for tournament schedules), the start of team practice typically kicks off in mid November and runs through the end of February (see the Event Calendar for practice schedules).  General timelines are as follows:
November to end of February:  weekly practice, individual tournaments, K-3 team tournament(s), and K-6 team tournaments
March:  state qualifier tournaments
April:  state tournament
Most tournaments occur on Saturdays and Sundays but a few are on Friday nights.  The St. Peter Club pays for 4 tournaments and recommends all wrestlers compete in at least one tournament per week. 
As far as overall costs go, wrestling is relatively inexpensive compared to other winter sports.  The club believes in making wrestling as cost effective for families as possible and chooses to adhere to a strategy of minimum up front costs and asks that families help invest heavier in their time to support our hosted tournaments and fund raisers.  Here is a high level summary of the program costs:
1. Registration Fee - is $75 per wrestler (but capped at $200 max if you have 3 kids or more registering from your family). This is the base cost to participate in the program and covers two practices per week (excluding holidays) from November to the end of February. This cost also covers at least 4 tournament entry fees for club sponsored tournaments.  Open tournaments cost about $15 per tournament on average so the registration fee has a return on investment when it comes to attending tournaments.  That is, the $75 fee would cover each child to attend over 20 practices and at least 4 tournaments, which is an incredible value to participate in any sport.
2. Equipment Rental Deposit - for renting a singlet, shoes, or headgear is a $50 deposit per wrestler. This is in the form of a check that is not cashed, but held until the end of the season at which point when you return the equipment we will return your original uncashed deposit check.
3. Volunteer Deposit - There is a Volunteer commitment to the program. We collect $150 total (per family no matter how many wrestlers you have) as a deposit that we do not cash (similar to the equipment fee) that we hold on to until the end of the season. You will be given opportunities to volunteer at 2 fund raising events such as tournaments or other activities that our club activates as fund raisers. It is a total commitment of 6-8 hours of volunteer time. If you meet your volunteer requirements your check will be returned at the end of the season. If you are unable to meet the requirements our club will cash the check at the end of the season.  Read more on our Volunteer Agreement Page.
Saint Peter Youth Wrestling holds practice 2 times per week.   It is up to you how much additional practice or tournament attendance happens outside of our twice weekly practices.  However, the more "mat time" a wrestler dedicates themselves to, the better they will achieve mastery of the skills.   In terms of wrestling tournaments, wrestlers do not have to attend every meet - although we encourage athletes to attend as many as possible.  Tournament days are time consuming.  Wrestlers typically have to weigh in at the tournament location between 8:00 AM and 10:00 AM (for day tournaments).  Then they wait until their match comes up.  The younger wrestlers are usually at meets until 1:00pm, the older wrestlers typically stay longer since matches at tournaments start with the youngest wrestlers first.
At a minimum your child should come to practice with the following:
Shorts or sweatpants
A t-shirt
The following are recommended at practice:
If you are new to the sport please talk to the coaches before buying anything. We may have additional equipment that you can rent for your child to use.
The following should not be worn during practice:
Saints singlets rented from the club

- To keep these in good condition we ask that you reserve the wearing of them for tournaments only.  If you purchased your singlet, your wrestler can wear it anytime.
Street shoes - Please do not wear street shoes into the wrestling room.  If your child has wrestling shoes they can wear those, otherwise they can practice in socks as well.

Accessories - Wrestlers are not allowed to wear jewelry, jeans, buttons, or snaps while they wrestle.
During practice, wrestlers wear shorts and t-shirts. During tournaments, wrestlers remain in their warm up gear (shorts or sweatpants and t-shirt) until it is time for them to start wrestling.  Singlets are only worn during competitions during the wrestling match. Wrestlers generally do not walk around wearing just their singlet.
SINGLET CARE INSTRUCTIONS
Wash Cold - You should wash in cold or warm water, never hot
Use Mild Detergent - Use a mild (non-phosphorous) detergent. Harsh chemicals or phosphates can cause bleeding of colors.
Hang Dry - Avoid hot dryers, and remove the singlet as quickly as possible from the washing machine, allow it to drip or hang dry. Don't use metal hangers, they can leave rust marks - go for wooden or plastic.
Presoak It - If your singlet is especially dirty or has bloodstains, presoak it in a bucket or plastic container with a little bit of laundry detergent. Soaking anywhere from one hour to overnight will help loosen any stains before washing.
Lose the Funk - Let's face it - singlets get stinky. If you have a singlet that has got the funk, add up to a cup of baking soda to your pre-soak, it will go a long way to neutralize odors.
No Bleach - Never use chlorine bleach - it can damage the fabric and dull the vibrant colors sublimated into the fabric.
Wash Alone - Wrestlers compete alone, and their uniform should be washed that way. Other fabrics (especially those with velcro or other fasteners) can damage the fabric or can transfer lint to the singlet.
No Ironing - Hopefully this goes without saying, but don't even think about ironing your singlet.
SHOE CLEANING & DISINFECTING
Disinfect Regularly - Use a low level disinfectant spray or cleaner with virucidal, fungicidal, and bactericidal properties. Lysol Brand IC is a popular choice, but brand names are less important than the ingredients and disinfecting properties.
Clean the Soles - While you can wipe down the entire pair of shoes, the main problem area tends to be the soles on the bottom.  Using a warm soapy cloth or warm water and a tooth brush, clean the bottom of the shoes regularly to avoid the spread of germs.
Deodorize the Insides - Wrestling shoes can get very stinky very quickly.  We recommend you regularly deodorize the insides using a commercial shoe deodorizers or other DIY solutions.  For example you can sprinkle baking soda in the shoes when they are dry or leave a dryer sheet in them overnight.
HEADGEAR CLEANING & DISINFECTING
Disinfect Regularly - You can use some disposable alcohol wipes to clean your headgear if it is primarily made of synthetic materials.  Ensure that the inside, outside, and straps are wiped down.  If your headgear is primarily cloth-based you use the same disinfectant spray that you use for shoes on the headgear.  If the headgear gets particularly dirty or stained, you can soak it in warm soapy water, scrub troubled spots with a gentle brush, and then hang to completely dry.
In practice your child will wrestle with the kids closest to their age, weight, and ability. In tournaments your child will typically wrestle within their age group and usually within +/- 5lbs of their weight. We try to match age, experience, and weight the best we can.
There are two types of tournaments:
Individual - any wrestler can attend an individual tournament.  These are published on The Guillotine.
Team - wrestlers which have met weight requirements and won wrestle offs (or have elected to participate as an alternate) are involved in team tournaments.
Other topics on this page address these tournament types in more detail.  The main thing to know is that individual tournaments throughout the main season (November → February) occur nearly every weekend and will be hosted by various clubs.  Individual tournaments are usually "open" which means that any wrestler can sign up and participate at their age and skill level.  Tournaments are usually held at high schools of the participating town and there is a nominal fee to enter the tournament (typically $12-$15 per wrestler and $2-$5 per parent spectator).  All the details of the start times and location of each tournament are listed on The Guillotine.
Individual Tournaments
Individual tournaments are registered and entered by wrestlers on their own (times and dates are published on The Guillotine).  That is, a parent or guardian will transport the wrestler(s) to the tournament, register them according to their age and skill level, and help them get to the places they need to go prior to the start of the tournament.  There are 4 total tournaments that the club will sponsor, which means they will reimburse you for your entry fee (or will have paid in advance).  We aim to target high team attendance for sponsored events.  However, in most cases tournaments (whether club sponsored or not) will have wrestlers in attendance form St. Peter and each wrestler will be placed in their own round-robin brackets to wrestle kids from other locations.  Wrestlers in individual tournaments are grouped based by their age, weight, and experience.  Wrestlers are grouped into 4 kids per match group and will have 3 total matches.  Awards and ranking are calculated for each individual within a wrestling group to determine overall placing.
Team Tournaments
The below is a summary of how team tournaments are formed and run.  For a formal definition of team tournament rules as per the NYWA please review them on their site.
Team tournaments are different in that the team will assemble a group of wrestlers split out into separate weight classes that each individual wrestles within.  Team tournaments are also published on the Guillotine, but your child's participation in a team tournament will be offered through parents signing up their wrestlers (sign up sheets will be at practice) and the wrestler participating in "wrestle offs" at practice (more on this below).   Team tournaments have a stated age group for members of a given team (often K-6th, but some are K-3rd).  A K-6th team will be comprised of wrestlers from ages K to 6th grade that best fill in all of the weight classes to create a competitive team.  The weight classes for K-6 teams are 45, 50, 55, 60, 65, 70, 75, 80, 84, 88, 93, 102, 115, 130, Heavyweight (over 130).  The goal of the team will be to fill each weight class with a wrestler to be a part of the team at the tournament.  The team also will take alternates, which are additional team members to help fill in for matches as needed (more below).  A typical weight class bracket for a team tournament might look like: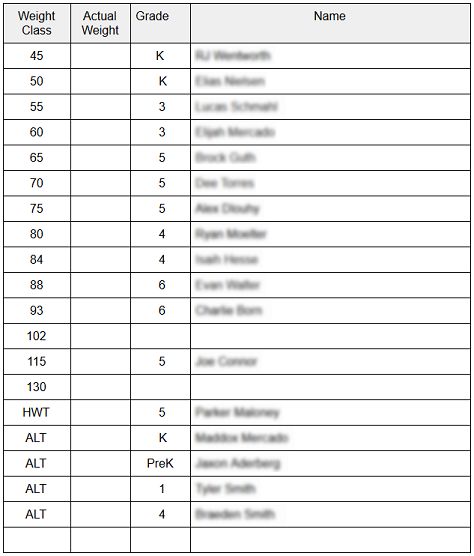 A wrestler at a weight class will have up to a 0.9 lb allowance.  This means a wrestler that is planning to wrestle at the 45 lb class can at most weigh 45.9 lbs at the weigh in before the tournament.  Please speak with the coach to determine what weight class would be most appropriate for your child when signing them up for a team tournament wrestle off.  Coaches utilize "wrestle offs" during practice to determine the most suitable team members to place at each weight class.  For instance, if we have 3 wrestlers at the 45 lb weight class that want to participate in that slot at a team tournament they can earn the spot by competing with their fellow wrestlers at that weight during practice in a 3 period match similar to an open tournament.  A wrestle off is a wrestling match between two individuals at the same weight class that happens during team practice.  The winner of the wrestle off will be eligible to wrestle for the team tournaments.  The weight at which they wrestle will be determined by the coach.  Additionally alternates will be needed for the team tournaments.  If you sign up your wrestler for wrestle offs at a weight class and they did not win the wrestle offs, they still have an opportunity to be an alternate at a tournament.  Alternates will be present with the team to help fill for the team in case there are any circumstances or coaching decisions that result in needing to fill in a weight class that is occupied by a team member that won the wrestle off for that class.  Coaches also try to get matches scheduled for the alternates at the tournaments so that they have a chance to compete in exhibition matches with wrestlers from the participating teams.  While these exhibition matches are not always guaranteed to be possible, the benefit of team camaraderie and experience as an alternate at tournaments provides tremendous value for the individual and the team as a whole.  Please discuss with the coaching staff if you are interested in your child being an alternate.
The coaching staff will announce during the season when they are accepting sign ups for wrestle offs for the team tournaments.  For a team tournament, each weight class will be matched up when teams face each other and points towards an overall team score are accumulated.  The team with the total higher score at the end of a match will be declared the winner of that match.
Position
In folkstyle wrestling, position is very important. Improving your position (i.e. defensive to neutral) is worth points and certain near falls can only be scored from the offensive position. Before you can understand scoring, it is important you understand the positions.
Offensive Position

The wrestler who is on top of and/or behind the opponent and is physically controlling them. Also, the wrestler on top in the referee's starting position. Only the offensive wrestler can score a 2, 3, or 4 point near fall.
Neutral Position

When neither wrestler has control over the other and they are both on their feet or knees and facing each other. Only a neutral wrestler can score a 2 point takedown.
Defensive Position

The wrestler who is underneath and is being physically controlled. Also the wrestler on the bottom in the referee's starting position. Only the defensive wrestler can score a 1 point escape or a 2 point reversal.
Match Points
During a match the referee will award points to wrestlers by holding up one of their hands. Their wrist bands (red or green) match the ankle bands of the wrestlers indicating which wrestler has scored points. At the end of the match the wrestler with the most points wins the match.
⚠  Note:  Points being awarded are at the judgment and discretion of the referee. In some cases what one referee considers as a pin may be both shoulder blades touching the mat for at least 2 seconds and another referee may require a shorter or longer duration. Also, awarding points for reversals and takedowns can vary as well. The point is, the scoring rules described below are general rules which have some subjectivity mixed in when being evaluated by a referee.
Takedown (2 points)

Awarded after one of the neutral wrestlers gets behind the opponent and forces them down to the mat to their stomach or side or knees or weight on all fours OR takes them directly to their back or buttocks without getting behind them AND becomes the offensive wrestler.

Escape (1 point)

Awarded after the defensive wrestler gets out from underneath the opponent's control and gets into the neutral position AND is facing the opponent. Defense to Neutral is a one point escape.

Reversal (2 points)

Awarded after the defensive wrestler gets out from underneath the opponent's control and gets on top of and/or behind the opponent in one move AND becomes the offensive wrestler. To earn a reversal, you do not have to return your opponent to the mat as you would on a takedown. Defense to Offense is a two point reversal.

Near Fall (2 points)

Awarded after the offensive wrestler turns the defensive wrestler over onto their back and holds them at a 45 degree angle or less for between 2-4 seconds. Also awarded when the match is stopped due to the defensive wrestler being injured and/or screaming out to stop the match (unethical unless they are really injured) while being turned toward their back (imminent near fall) before the near fall count starts or before 2 counts by the referee. Only one set of near fall points can be awarded for each pinning hold, and they cannot be awarded until after the pinning situation has ended.

Near Fall (3 points)

Awarded after the offensive wrestler holds the defensive wrestler within near fall criteria for five or more seconds in a row (5 counts by the referee), instead of the two point near fall. Also awarded when the match is stopped due to the defensive wrestler being injured and/or screaming out to stop the match (unethical unless they are really injured) after being held within two point near fall criteria (2-4 count by the referee), instead of the 2 point near fall.

Near Fall (4 points)

Awarded when the match is stopped due to the defensive wrestler being injured and/or screaming out to stop the match (unethical unless they are really injured) after being held within near fall criteria for five or more seconds, instead of the 3 point near fall.

Penalty/Caution Points (1 or 2 points)

A wrestler in any of the three scoring positions can earn one or two penalty/caution points when their opponent breaks the rules of wrestling.

The Fall (a.k.a. the pin) (Victory!)

Awarded when a the offensive wrestler holds the defensive wrestler on their back with their shoulders to the mat for 2 seconds. The offensive wrestler immediately wins the match.

Technical Fall (a.k.a. tech) (Victory!)

If at any time a wrestler has a 15 point advantage over his opponent they immediately win the match.

Penalty Points (1 point, 2 points, disqualification)

A wrestler can earn penalty points when their opponent breaks the rules of wrestling. On the penalty chart, any first penalty is 1 point. Any second penalty is 1 point. Any third penalty is 2 points. Any fourth penalty is disqualification. Unsportsmanlike conduct and flagrant misconduct can lead to immediate disqualification.

Caution (0 or 1 point)

A wrestler can earn one caution point from the opponent's third caution from the referee. A wrestler is allowed two cautions before the penalty points begin.
We have many ways that we communicate directly and indirectly with wrestling families.  Email, Facebook, and Remind are the three primary ways that we directly communicate with families throughout the season and even throughout the year.  This website, our Event Calendar, and our Coaches & Board pages are a good way to indirectly acquire information about our club, it's team members, and our events.
To get information on how to subscribe to our communications platforms please visit our Stay Informed page.
Wrestling is a contact sport and injuries do occur.  As would be expected, wrestling has more injuries than tennis and swimming, but most wrestling injuries are minor, consisting of sprains and strains. Wrestling has fewer serious injuries than football, basketball, and ice hockey.  In fact, there is a lesser chance of getting seriously hurt when wrestling than when riding in a car, skateboarding, or biking.  Saint Peter Youth Wrestling keeps safety of all wrestlers at the forefront of our concerns.  Our goal is to provide an environment for your child to feel encouraged and challenged physically and mentally by practicing with other kids of similar age, size, experience.  We encourage parents and guardians of new wrestlers to attend our practices and get a feel for how the sport is taught and how the children participate in action.
Wrestling is a close contact sport, unfortunately with an increased risk of skin infections.  By far, the most common type of skin infection is Ringworm and while others such as Herpes Simplex, Impetigo, Molluscum, and Staph/MRSA are possible they extremely rare in comparison.  It is important to regularly check your wrestler for any discoloration, itchy, red, circle, or raised areas.  The following is recommended to prevent skin disease and promote the health and well-being of your wrestler: 
It is very important for your wrestler to shower after every practice and tournament. The wrestling mats are cleaned after each practice but due to the close contact nature of wrestling, bathing after each practice is a must. 

It is important that parents and wrestlers do not wear street shoes on the wrestling mats as not only does it damage the mats but spreads germs.

Please clip your wrestlers nails regularly.  Nails will be checked at tournaments and they must be trimmed regularly to keep your child in conformance and to mitigate injury to the wrestlers.

Referee's will also check for ringworm prior to competition and can disqualify a wrestler without a doctor's permission if ringworm is found.
As mentioned above there are also other skin conditions that can be transmitted through wrestling but ringworm accounts for well over 90% of cases and the chances of getting ringworm are actually quite low.  It is estimated that less than one percent of wrestlers will contract ringworm in the course of a season.
Cauliflower ear is a permanent disfigurement of the outer ear that occurs from the build-up of scar tissue from repetitive impact to the ear. It is nonexistent at the youth level and extremely rare at the high school level.  Collegiate wrestlers that wrestle day in and day out without wearing headgear will gradually develop cauliflower ear, but even at the collegiate level it is not the norm.  While cauliflower ear is not something to be overly concerned about at the youth level, our club still recommends that wrestlers wear headgear during practice and during matches as it is a good practice to instill early on for wrestlers of all ages.
No!  There is no weight cutting in youth wrestling programs. It's true that weight cutting does exist at the high school and collegiate levels, but there are quite a few public misconceptions.  Furthermore, state and national governing bodies, such as USA wrestling, now prohibit any form of rapid or unsafe weight loss.
Some parents automatically associate wrestling with excessive, out-of-control weight loss, akin to anorexia and bulimia.  In reality, the opposite is true - wrestlers gain control of their body weight and body composition, and are able to set and achieve reasonable goals with respect to muscle mass, fat percentage and body weight.
Saint Peter Youth Wrestling has the opportunity of working with coaches who have been High School and NCAA Champions who have a lot of experience in competing and winning.  However, Saint Peter Youth Wrestling recognizes that children develop at different times and at different rates so we are focused on monitoring each child's development and work to place children into wrestling situations that sets a child up for success both now and in the future.  Saint Peter Youth Wrestling is dedicated to teaching our students how to prepare and master fundamentals. When the child develops the leadership and mental and emotional skills necessary to compete at a higher level, then we start to talk about serious wrestling competition.  Our goal is to provide opportunities for preschool through 6th grade boys and girls of all levels to develop character, confidence, discipline, work ethic, and mental toughness so that they can become future leaders.